Can that really be right? 9 weeks and she'll be here. After waiting 4 years, she's really coming? I'm in awe of this every single day. I was just telling Patrick this morning that I'm in a bit of a panic. While I feel completely ready emotionally, I don't feel physically ready for her (getting the house in order, getting her stuff, learning to use the stuff, etc.). I'm completely lost. I can tell you absolutely everything about getting pregnant, staying pregnant, being pregnant...but the cold hard truth is that I don't have a freaking clue what to do with a baby. Am I really going to figure all of this out that fast?
Anyway, moving on from my panic of the hour, here are the pics from last week at 28 weeks. I just posted the mini-progression here because the big progression is getting too big and really you can see the big changes pretty good with just these pics. Boy do I look pregnant now!! It's actually kind of funny. I'm constantly running into things and when she gets active, I swear it looks like that thing from Alien is about to pop out of my stomach. But I love every minute of it.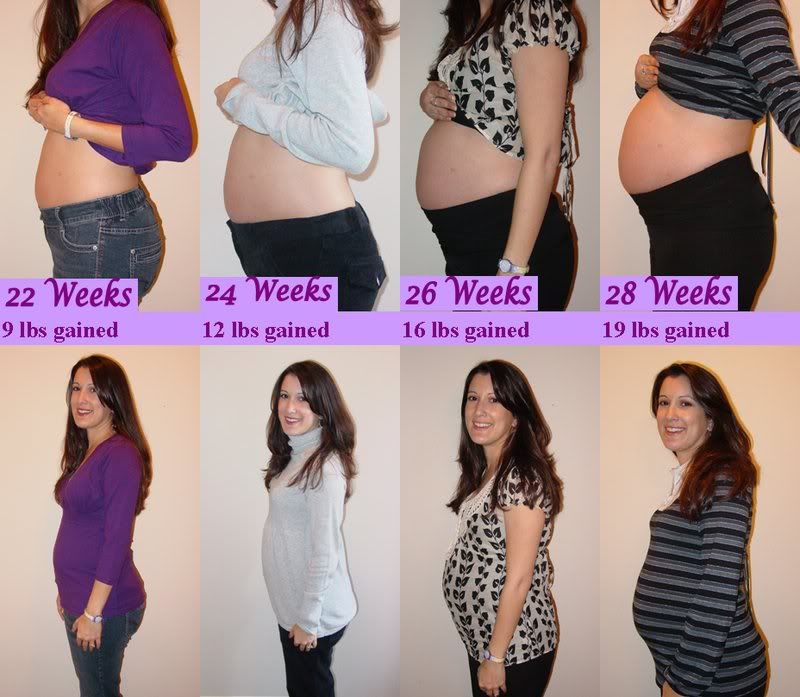 Next on tap is an all day Breastfeeding class on Saturday. I've excused Patrick from it because that just seems like pure torture, and I'm not that mean...today at least. ; ) Also, the showers are coming, more appointments, you name it, and every step along the way just makes it more real. The craziest moment for me in the past week was when I opened my own shower invitation. To see my name on that invitation...finally, after all these years, well I got a little emotional. I'm really having a baby, and I have to repeat that to myself several times a day so I can finally start believing it.